There is only ONE SMART WAY to know what is going on around you !
Surveys Surveys Surveys.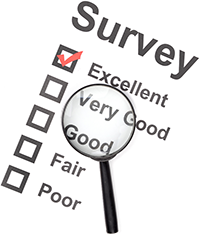 DO YOU WANT TO HEAR ABOUT WHAT SURVEYS ARE ON OFFER BEFORE EVERYONE ELSE DOES ?
Click here to tell us what surveys you want us to tell you about
We are well known for producing the following reports:
The Club Industry's LARGEST Salary Survey EVER completed (over 215 pages of data).
The Club Industry's most relevant Club CEO Salary Surveys
Staff Engagement and Satisfaction Studies
Management and CEO Consultations
Club Awareness Surveys
Broader Membership Surveys
One-on-one individual member surveying / interviewing
Member Research
Focus Groups
Demographic Surveys
Call us to discuss your needs on
0417 223 286
or email us at
info@whitenow.com.au
Note:
We are pleased to continue to work in partnership with Martin Watson from Roar Media for a number of these services.